Diffuser Decor Supreme Amber
Only %1 left
Rattan sticks diffuser, incense, patchouli, black vanilla notes.
Sculpted, square-shaped bottles in thick glass with Dark Brown maple wood cap. The bold, distinct features of the CULTI DECOR line add a touch of character to any room. Supreme Amber is a velvety late September sunset when summer gradually succumbs to autumn. It is an invitation to experience a moment of transition, one of unexpected change.
| | |
| --- | --- |
| Fragrance | Supreme |
| Collection | Decor |
| Olfactory family | Oriental |
SUPREME AMBER
Supreme Amber tells the atmosphere of a soft sunset in the end of September: imagine a walk in a park lit by warm colors, the air sparkling announcing the arrival of a new season. Supreme Amber is the invitation to live a passing moment in all its complex essence; to enter into an unexpected change with determination and sweet abandonment.
The warm and intense background of incense and patchouli is softened by the precious black vanilla and made fresh by the lively opening of cyst and chinotto: a complex and deeply rich fragrance, perfect to tell the thousand facets of a magic moment.
| | |
| --- | --- |
| Olfactory family | Oriental |
| Facet | Woody |
| Olfactory Notes | Incense, Chinot,to Black Vanilla, Patchouli |
| Location | Living Room, Private Areas, Study, Bed Room |
| Created | 2019 |
Flame retardant

UFI: 

5F10 - J0SM - 500G - W8T4

DANGER: Highly flammable liquid and vapour. H319 Causes serious eye irritation. May cause an allergic skin reaction. Harmful to aquatic life with long lasting effects. CONTAINS: Linalool, Bicyclo(3.1.1)Hept-2-ene,2,6,6 - Trimethyl-,(1s) - , Ethoxymethoxy cyclododecane May produce an allergic reaction. Dispose of contents/ container to local rulements. Keep out of reach of children. Keep away from heat, hot surfaces, sparks, open flames and other ignition sources. No smoking. Wear protective gloves/ protective clothing/ eye protection/ face protection. If medical advice is needed, have product container or label at hand. In case of fire: use chemical extinguisher to extinguish. CONTAINS: (R)-P-MENTHA-1,8-DIENE.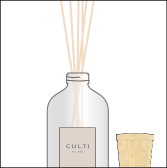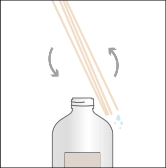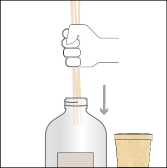 Turn the reeds over. The frequency of turning the reeds upside down determines the intensity of the fragrance; the more often they are turned over, the stronger it will be. It is suggested that turn the reeds every 14 days.
The duration of the fragrance. Large room size, high temperature, direct sunlight, and intense air circulation can accelerate evaporation and thus affect fragrance duration. Place the diffuser away from intense illumination, heat sources, and strong air current, and consider a diffuser size appropriate to the room's size.
Suggestion for lasting fragrance. To make the fragrance last longer, it is recommended that refill the same fragrance into the diffuser regularly in order to maintain the liquid at the level of the curvature of the bottle for optimal speed of evaporation.