Only %1 left
Rattan sticks home diffuser, sencha tea and guaiacum wood
Glass bottles with ivory-coloured labels and cap in natural maple wood. The aesthetic character of the CULTI STILE line evokes purity and elegance. Thé: Soaking in the meditative warmth of a bath tub filled with Japanese green tea. Vapours rise hypnotically off the water, delicately diffusing and filling the room with the aroma of tea leaves.
| | |
| --- | --- |
| Fragrance | The |
| Collection | Stile |
| Olfactory family | Aromatic |
THE
The tea ceremony, slow and meditative. Hypnotic gestures of an ancient tradition performed one by one in a symbolic ritual. A balanced and pure blend of bergamot and japanese green sencha tea, complemented by a note of guaiacum wood. A tribute to slowness.
| | |
| --- | --- |
| Olfactory Family | Aromatic |
| Facet | Floral |
| Olfactory Notes | Bergamot, Sencha Tea, Guaiacum Wood |
| Location | Living Room, Study, Kitchen |
| Created | 1997 |
Flame retardant

UFI: 

FQ10 - 20UT - 200Y - W9JA

ROOM FRAGRANCE. Ingredients: denatured alcohol, aqua, parfum. DANGER: H225 Highly flammable liquid and vapour. H319 Causes serious eye irritation. H317 May cause an allergic skin reaction. P501 Dispose of contents/container in accordance with local regulations. P210 Keep away from heat, hot surfaces, sparks, open flames and other ignition sources. No smoking. P280 Wear protective gloves/ protective clothing/ eye protection / face protection. P101 If medical advice is needed, have product container or label at hand. P370+P378 In case of fire: use chemical extinguisher to extinguish. P102 Keep out of reach of children. CONTAINS: 2-Phenylmethyleneoctanal; (R)-P-MENTA-1,8-DIENE; Linalyl acetate; Geraniol; Citronellol; Linalool.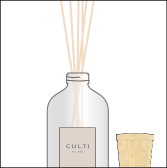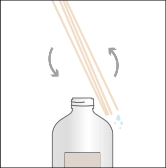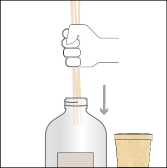 Turn the reeds over. The frequency of turning the reeds upside down determines the intensity of the fragrance; the more often they are turned over, the stronger it will be. It is suggested that turn the reeds every 14 days.
The duration of the fragrance. Large room size, high temperature, direct sunlight, and intense air circulation can accelerate evaporation and thus affect fragrance duration. Place the diffuser away from intense illumination, heat sources, and strong air current, and consider a diffuser size appropriate to the room's size.
Suggestion for lasting fragrance. To make the fragrance last longer, it is recommended that refill the same fragrance into the diffuser regularly in order to maintain the liquid at the level of the curvature of the bottle for optimal speed of evaporation.