Only %1 left
Rattan sticks home diffuser, bergamot and sandalwood
Sculpted, square-shaped bottles in thick glass with Dark Brown maple wood cap. The bold, distinct features of the CULTI DECOR line add a touch of character to any room. Aqqua: A wide-open sea view, one glance sweeping across the bay, the mountain sliding into the deep blue, and the villages perched up high, resembling a painting. A place of natural elegance with a vigorous, almost physical energy.
| | |
| --- | --- |
| Fragrance | Aqqua |
| Collection | Decor |
| Olfactory family | Woody |
AQQUA
A burst of positive, invigorating energy to fuel your dreams of freedom. Fresh, bold, almost masculine, evoking open spaces. Citrus scents blended with spices and aromatic herbs are complemented by amber and fragrant woody notes. Carrying you far away.
| | |
| --- | --- |
| Olfactory Family | Woody |
| Facet | Citrus |
| Olfactory Notes | Coriander, Bergamot, Mimose, Sage, Sandal Wood |
| Location | Living Room, Bathroom, Study |
| Created | 1990 |
Flame retardant

UFI: 

3E00 - G0GU - G00J - Y5TC

EN: ROOM FRAGRANCE. Ingredients: denatured alcohol, aqua, parfum. DANGER: H225 Highly flammable liquid and vapour. H319 Causes serious eye irritation. H317 May cause an allergic skin reaction. H411 Toxic to aquatic life with long lasting effects. P102 Keep out of reach of children. P210 Keep away from heat, hot surfaces, sparks, open flames and other ignition sources. No smoking. P280 Wear protective gloves/ protective clothing/ eye protection/ face protection. P370+P378 In case of fire: use chemical extinguisher to extinguish. P273 Avoid release to the environment. P391 Collect spillage. CONTAINS: Acetyl cedrene; Ethanone,1-(1,2,3,4,5,6,7,8-Octahydro-2,3,8,8-Tetramethyl-2-Naphtalenyl)-; Methyl-3,4-methylene dioxydrocinnamaldehyde; Coumarin; Piperonal; Bicyclo(3.1.1)Heptane,6,6-Dimethyl-2-Methylene-,(1s)-; Linalool; (R)-P-MENTA-1,8-DIENE; Linalyl acetate.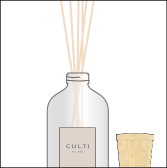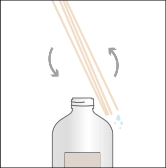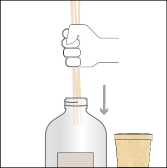 Turn the reeds over. The frequency of turning the reeds upside down determines the intensity of the fragrance; the more often they are turned over, the stronger it will be. It is suggested that turn the reeds every 14 days.
The duration of the fragrance. Large room size, high temperature, direct sunlight, and intense air circulation can accelerate evaporation and thus affect fragrance duration. Place the diffuser away from intense illumination, heat sources, and strong air current, and consider a diffuser size appropriate to the room's size.
Suggestion for lasting fragrance. To make the fragrance last longer, it is recommended that refill the same fragrance into the diffuser regularly in order to maintain the liquid at the level of the curvature of the bottle for optimal speed of evaporation.